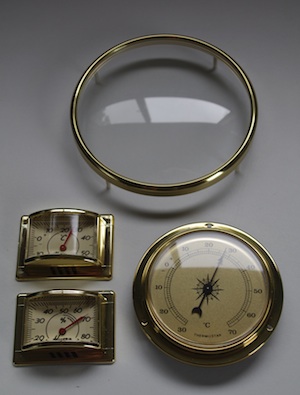 I've been looking around on-line and in stores for some parts to make some classy steam-punk gauges. After a lot of searching I came across Lets Make Time here in Australia who carry clock and weather station parts at very reasonable prices. It's always hard to gauge build quality from pictures, so I laid down some cash and bought a grab bag of stuff. The order arrived and it all looks great. It was no surprise to find the rectangular gauges are made from plastic and look a bit cheap, but I really love the retro shape and they actually don't look too bad. I haven't cut one open yet, but from the outside everything looks great for my purposes.
The large lens is glass, with a metal rim, mounted over a plastic frame. I'm very pleased with it too.
The circular thermometers turned out to be the real gem in this collection. The outer ring is metal, and the lens is acrylic but well finished and looks beautiful. The printed dial seems to be made out of metal too - maybe aluminium with a gold-coloured foil on both sides. As an extra-happy bonus, the needle fits the shaft of the X25s so it can be used with no modification.