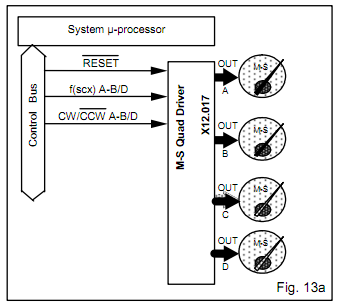 The X25 data sheet describes the X12 family of driver chips which allow up to 4 Switec motors to be controlled over a 3-wire serial interface. I like the look of these for keeping the I/O count down, and offloading a bunch of processing from the Arduino. However I have been unable to find a supplier for X12 quad driver chips. It seems that they were available until recently from Swatch subsidiary Microcomponents Ltd. at microcomponents.ch, but after Swatch sold the stepping motor business to Singapore-based Juken Techonology in 2009, that website disappeared.
There appear to be several other manufacturers making clones of this chip. Here's what I've found so far:
The NOST Microelectronics BY8920 Quad Driver (datasheet, in Chinese) , datasheet translated to English by Google.
The AX1201728SG was suggested in the comments. I have not been able to locate a datasheet, but unlike any of the other chips listed here, these are available in single quantity on ebay. The SG is a SOP (Small Outline Package) surface mount IC. I believe the DIP version of this chip is the AX1201728PG.